ECO-150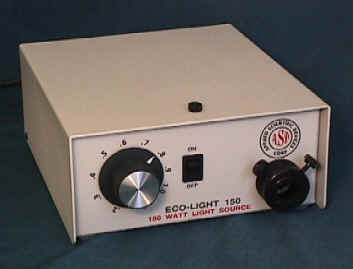 More light available: With up to 180 watts in the 350nm to 1100nm range, the ECO-150 has the extra power available for times when more light energy can make the difference. Ideal for reflectance or fluorescence measurements. The red zone on the dial shows the user when they are sacrificing bulb life.
Low profile design: The clean, compact design fits well into tight spaces. Units may even be stacked for multiple light source applications.
A proven rheostat: Provides smooth intensity control. A separate ON/OFF switch allows the user to maintain the power setting when the unit is turned off and on.
Variable fan speed: The bulb maintains the halogen effect at low light settings for extended bulb life, yet stays cool at the more intense settings.
Universal adapters: Accommodates most fiber optic light guides.
DC convertible: Easily converted to non-regulated DC bulb power for "no-flash" applications.
Circuit breaker equipped: Electrical and thermal protection without obscure fuses to find or replace. Just push the re-set button in case of electrical or thermal overload.
SPECIFICATIONS:
Knob Setting

Light Output

EJV Bulb

EKE Bulb

DIMENSIONS

7 ¼" W X 8 ¼" L X 3 ½" H

BULBS AVAILABLE

EJV

Rated Watts – 150

Rated Life – 40 Hours

Rated Color Temp. – 3400 K

EKE

Rated Watts – 150

Rated Life – 200 Hours

Rated Color Temp. – 3250 K

Bulb Life

Color

Bulb Life

Color

.2

20%

-

2870 K

-

   2720 K

.3

30%

-

2945 K

-

   2795 K

.4

40%

1400 HR.

3120 K

7000 HR. 

   2970 K

.5

50%

 560 HR.

3180 K

2800 HR.

   3030 K

.6

60%

 280 HR.

3240 K

1400 HR.

   3080 K

.7

70%

  160 HR.

3280 K

800 HR.

   3130 K

.8

80%

   96 HR.

3310 K

480 HR.

   3160 K

.9

90%

   56 HR.

3360 K

280 HR.

   3210 K

1.0

100%

   40 HR.

3400 K

200 HR.

   3250 K

1.2

120%

   16 HR.

3520 K

 80 HR.

   3370 K
ECO-150 Tungsten-Halogen Light Source = $595.00
Fiber Optic Light Guide Options:
SG-018: Single light guide, 18″ long with chromed sheathing for accurate positioning = $225.00
BG-018: Bifurcated light guide, 18″ long with vinyl-clad sheathing = $375.00
RL-360: Annular ring light for the highest degree of uniform illumination, 3' flexible stainless steel sheathing= $325.00